Brio On The Plaza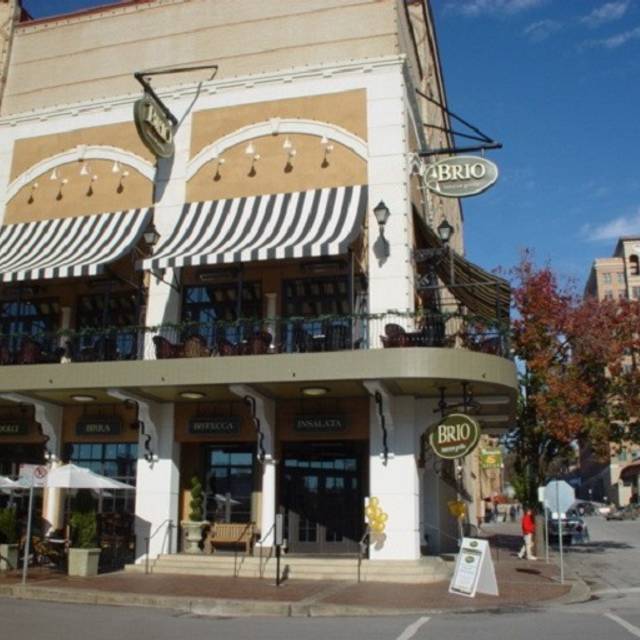 At BRIO, you can enjoy our Italian menu, make a reservation, bring our Italian food home by ordering online and sharing your favorite restaurant by purchasing gift ...
Appetizers Tomato & Mozzarella Caprese Vine-ripened tomatoes, fresh Mozzarella, basil, field greens, balsamic glaze, lemon vinaigrette 9.25 Roasted Garlic, Spinach & Artichoke Dip Parmesan flatbread, great for sharing 9.75 Spicy Shrimp & Eggplant Pan seared shrimp, Romano crusted eggplant, black pepper cream sauce 11.75 Beef Carpaccio* Field greens, capers, mustard aioli, Parmesan 11.75 Calamari Fritto Misto Fried to a crisp golden brown with peperoncini 10.95 Burrata & Ciabatta Roasted tomato, EVOO, grilled ciabatta 10.95 Prosciutto & Burrata Pizza Tomato sauce, chili flake, basil 13.95 Bruschetta &Flatbreads Roasted Red Pepper & Fresh Mozzarella Bruschetta Fresh Mozzarella, basil, Parmesan, balsamic glaze 12.25 Sliced Steak Bruschetta* Gorgonzola, arugula, charred tomato, Parmesan 13.50 Chef's Seasonal Bruschetta Featuring the season's freshest ingredients 12.50 Margherita Flatbread Fresh Mozzarella, vine-ripened tomatoes, basil 13.75 Sausage, Pepperoni & Ricotta Flatbread Mozzarella, Provolone, housemade tomato sauce 13.95 Bruschetta Sampler* A sampling of our three housemade bruschettas 15.95 Soup & SaladSide & Entree Soup of the Day Chef's seasonal selection 5.95 Lobster Bisque Sautéed shrimp garnish 490 cal 6.95 Zuppa & Insalata "Soup & Salad" Soup of the Day with your choice of a Chopped, Caesar or Bistecca Insalata 10.25 BRIO Chopped Salad Chopped greens, tomatoes, black olives, red onion, cucumber, Feta, red wine vinaigrette 210 cal 5.95 Caesar Salad Brioche croutons 310 cal 5.75 Wedge Salad Gorgonzola, bacon, tomatoes, creamy Parmesan dressing 370 cal 5.95 Kale Caesar Tricolore lettuce, marinated kale, pancetta, tomatoes, chopped egg, croutons, Caesar dressing, Parmesan 420 cal 6.95 Tuscan Kale Caesar* Tricolore lettuce, marinated kale, pancetta, tomatoes, chopped egg, croutons, Caesar dressing, Parmesan CHICKEN - 13.95 SALMON - 16.95 Strawberry Balsamic Chicken Salad Mixed greens, thinly sliced grilled chicken, grapes, spicy pecans, Gorgonzola, herb vinaigrette 14.25 BRIO Sliced Steak Salad* Tricolore lettuce, tomatoes, Gorgonzola, mushrooms, spicy pecans, creamy horseradish, grilled tenderloin, balsamic glaze 15.95 Grilled Salmon Salad* Mixed greens, tomatoes, asparagus, Feta, crispy shoestring potatoes, balsamic vinaigrette 16.95 Lunch Plates2 Courses 2-Courses - Choose one Soup or Side Salad and one Select Entrée 13.50
Graphics are one of many primary elements of any tradeshow exhibit. They set the tone of the show, and establish how your company will likely be perceived. New advances in tradeshow graphics make it possible for exhibitors endless design alternatives with cloth graphics. Brio On The Plazais provided only for personal use as image on computers, smartphones or other display devices. If you found any images copyrighted to yours, please contact us and we will remove it. We don't intend to display any copyright protected images.
---
Gallery of Brio On The Plaza